Eurofighter jet crashes at Spanish base
Comments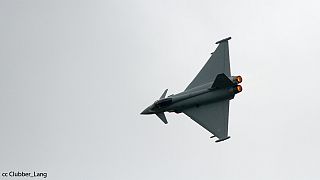 A Spanish Eurofighter jet crashed on Monday afternoon at the Moron de la Frontera air base near the southern city of Seville, killing the pilot, a spokesman for the Spanish defence ministry said.
The accident happened on the runway as the pilot was returning from a flight and nearing the base, the spokesman said. Earlier the ministry had said the crash had happened at take-off. The cause of the accident was still unclear.
The pilot was an air force captain, the spokesman said.
The Moron military base is shared between Spain and the U.S. air force, although only Spain uses the Eurofighter combat planes.
The jets are built by British defence company BAE Systems , European aerospace group Airbus and Italy's Finmeccanica.
Spain agreed to acquire 87 of the combat jets just over a decade ago, and has an option to buy 16 more between 2003 and 2018, according to the defence ministry.
Reuters