What's the score? the pros and cons of the marking system
Comments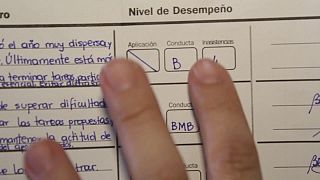 Getting clear feedback about progress can be a big help to students and in many countries this means giving marks. But is it really the best method for assessing a child's progress in education, or are other approaches more productive?
That is the issue under discussion in this edition of Learning World. Presenter Maha Barada offers three stories exploring the advantages and disadvantages.
The first, from Uruguay, looks at how effective a simple marking system can be in gauging a student's academic achievements. But how content are the pupils, teachers and parents with this method and does it tell the whole story?
The second report focuses on a more holistic approach taken in Denmark, where children are no given any marks in school until the age of 13. The emphasis is on maximising the child's academic strengths irrespective of how their classmates are performing.
In this edition's final story we assess the relative merits of both systems and the debates they generate. We hear a global evaluation and critical analysis from two education experts in France.
If you would like to take part in what is a very contentious debate visit our social media pages: