Children raped, forced to eat faeces in Indian school
Comments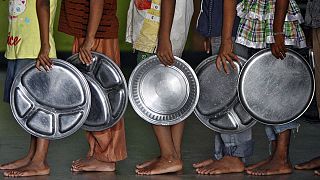 The owner and manager of a children's boarding school in western India have been arrested after five minors said they were raped, forced to watch pornographic films and act them out with one another, police and charity workers said.
The children were made to eat faeces as a punishment if they did not comply.
The 52-year-old owner of the Chandraprabha Charitable Trust and his 30-year-old female manager were arrested on Monday after a police raid on the school in Karjat city in Maharashtra state.
"We received a police complaint from the Childline charity saying that one child had gone home for the holidays and confessed to his mother that abuses were happening," Karjat's Police Inspector R.R. Patil told the Thomson Reuters Foundation late on Thursday.
"Five children in total have now come forward and we have booked the two suspects under various offences," he said, adding that these included "unnatural sex" (sodomy), wrongful confinement and sexual assault.
The school accommodated 28 underprivileged children, aged between 4 and 14, for 10 months of the year, said Patil, but most were on holiday at home at the time of the raid.
Police were trying to find out whether other children were abused and if there were any other suspects.
Anuradha Sahasrabudhe of Childline, a charity supported by the government, said the children had spoken about all kinds of sexual and physical abuse.
"It's a horrific case. The children have been telling us about the sexual abuse going on there. There has been oral sex, there has been forced sex… These things have been photographed," Saharasabudhe told the NDTV news channel.
"Children have been punished by making them eat dog excreta and when they vomited, they were made to eat vomit," she added.
Police say the residential school had been running since 2002, but was not registered and had therefore escaped government inspections by child welfare officials.
Child sexual abuse is disturbingly common in homes, schools, and residential care facilities in India.
Inspection mechanisms for children's homes, shelters and schools are inadequate and many privately run facilities are not even registered, a February 2013 report by Human Rights Watch said.
In May 2012, serious sexual abuse was uncovered at a well-established residential care home for orphans called Apna Ghar (Our Home) in Rohtak on the outskirts of Delhi.
Girls said they were forced to have sex with strangers for money and that they had been abused.
Source: Reuters