Portugal's bailout is over, but not the austerity
Comments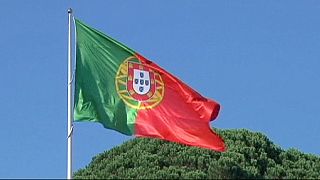 After three years of austerity, Portugal is exiting its international bailout. Like Ireland it will make a "clean exit" without the need for a credit safety net.
Portugal's political opposition and the unions say the country is in worse shape than before the bailout . The government and the "troika" of international lenders call it a success.
That is not what many Portuguese think, and the International Monetary Fund has acknowledged that the impact of austerity on the economy was greater than it had anticipated.
In return for the 78 billion euros of loans it asked for in 2011, Portugal's austerity cuts will total 30 billion euros by 2015 – 12 billion more than originally calculated and almost 18 percent of Portugal's gross domestic product (GDP).
Portugal's debt rose from 94 percent of GDP in 2010 to 129 percent in 2013 according to Eurostat data. The budget deficit fell from 9.8 percent of GDP in 2010 to 4.9 percent in 2013. But the 3.0 percent target should be achieved only in 2015, two years late.
Cuts in wages and pensions and higher taxes meant consumption fell, along with investment and unemployment reached record highs.
The jobless rate has declined, but was still at 15.2 percent of the workforce in March. Youth unemployment was 35.4 percent , while Portugal is seeing an exodus of emigrants, especially skilled young people.
Tourism and exports remain resiliant. Exports rose 6.1 percent last year, especially for food, shoes and textiles, and Portugal enjoyed its first trade surplus in 70 years.
The credit rating agencies have raised their ratings or outlooks; Lisbon has returned to the bond market and the interest rate it is having to offer on 10-year government bonds has fallen sharply .
It has a guaranteed 15 billion euros to cover its debt needs for the next 12 months and was predicting GDP would expand 1.2 percent this year, but the latest EU growth figures released on Thursday make that target unlikely to be achieved.
For further insight we spoke to Pedro Lains, researcher and professor of Economic History at the Institute of Social Sciences at the University of Lisbon. He was also one of the 74 people who signed a manifesto asking for the restructuring of Portugal's debt.
Patricia Cardoso, euronews: "The end of the bailout doesn't mean the end of austerity, or the end of evaluations by the troika, and the spending cuts will become permanent. Could the Portuguese people change their attitudes in the future, unlike the Greeks, they mostly reacted peacefully to austerity?"
Pedro Lains: "There are more similarities than there are differences in what's happened in Portugal and Greece. The similarities are that they are both very weak economies, two of the weakest economies in the euro zone, and also economies with weaker institutions. This meant there was a recession driven by the austerity programme in these countries and austerity should have been rejected for that reason and was not. You have to remember that in other countries – for example in Spain and Italy – the European institutions, including the European Commission, tried to do something similar, and these measures were rejected.
"Maybe Portugal was not as badly affected as Greece, but that's not because of the Portuguese people, but rather the fact that the Portuguese economy is not quite as weak as the Greek economy, it has more exports, it has a industrial base that Greek does not have, it is less reliant on services that it has to import from other countries, etc."
euronews: "According to the IMF and the OECD, Portugal will only be able to reduce its debt to 60 percent of GDP in 2030, and that will require austerity measures – spending cuts – of around 1.9 percent per year. Is that strategy feasible?"
Pedro Lains: "Obviously not. The IMF itself knows that it's not feasible. The IMF is no longer recommending that. Portugal cannot continue indefinitely, with austerity. That makes no sense. Now the IMF is forced to say that, because it has no 'Plan B', no alternative. The way forward is political, it cannot come from the IMF. The IMF is made up of technocrats.
"There needs to be greater coordination of European policies to solve the eurozone problem, in the areas where the problems are greatest, which is the European periphery. Beyond that they can do all the calculations they want, it doesn't matter."
euronews: "Last year, Portugal had its first trade surplus in goods and services in nearly 70 years, thanks to strong export growth. How have the last three years altered Portugal's trade situation?
Pedro Lains: "This trade surplus is as a result of the austerity. Why do we have it? Because austerity reduces the size of the economy, it lowers consumption, cuts down the need for imports and permits more exports.
"Once the Portuguese economy gets back on track for growth the problems of financing Portugal's debt will return. The problems of borrowing money on the international bond markets will return, they are not problems as such but inherent issues linked to the level of development of the Portuguese economy. Without a solution for financing deficits within the eurozone we are not going to be able to get the Portuguese economy to grow again. That is a well known issue, economists are very familiar with it."
euronews: "When can we expect Portugal's labour market to improve?"
Pedro Lains: "The risk in Portugal – and this is a general risk throughout Europe – is that the economic recovery will not bring jobs. There will only be sustained improvement in the labour market if we introduce policies to increase employability. A person's job disappears, it has to be replaced by a new job. There has to be a process of transformation. And that is also a political issue."