UKIP leader Farage hit by egg while out campaigning for European election
Comments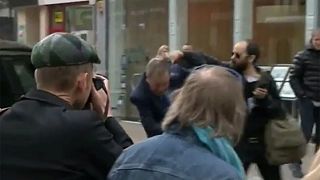 Britain's most-prominent anti-EU protester was hit with an egg while campaigning ahead of European elections later in May.
Nigel Farage, leader of UKIP, who wants Britain to leave the European Union, was attacked in Nottingham, footage from BBC News shows.
Farage has said there would be a political earthquake if UKIP triumph at European elections next month.
He had just got out of a car in Nottingham, when a man approached him and cracked an egg on him.
Police later charged Frederick Glenister – who branded UKIP 'sad, scared old men' – with common assault.
The 33-year-old, from Radford, Nottingham, will appear at the city's magistrates' court later in May.