'We are all monkeys' campaign spreads fast
Comments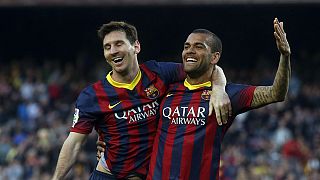 Various famous personalities have joined the 'We are all monkeys' campaign against racism.
Martin Schulz, candidate for President of the EU, wrote in a tweet "Racism has no place in football or society. Join me in rejecting discrimination #WeAreAllMonkeys #NoToRacism".
Racism has no place in football or society. Join me in rejecting discrimination #WeAreAllMonkeys#NoToRacismpic.twitter.com/uHEv3ZRnFX

— Martin Schulz (@MartinSchulz) April 30, 2014
Liverpool striker Luis Suarez posted a photo of him with team-mate Coutinho stating 'no to racism'.
With my mate Phil_Coutinho</a> <a href="https://twitter.com/search?q=%23SayNoToRacism&amp;src=hash">#SayNoToRacism</a> <a href="https://twitter.com/search?q=%23WeAreAllMonkeys&amp;src=hash">#WeAreAllMonkeys</a> <a href="http://t.co/mY3W4GogqZ">pic.twitter.com/mY3W4GogqZ</a></p>&mdash; Luis Suarez (luis16suarez) April 28, 2014
Anti-racist reactions from various famous people around the world were triggered on Monday after a banana was thrown at Barcelona's Brazilian international footballer Dani Alves.
The incident took place during an away game at Villarreal's El Madrigal on Sunday night. Alves reacted calmly: he picked up the fruit and ate half of it.
¡Grande Dani Alves! Le tiraron un plátano a la cancha y se lo comió en mitad del partido https://t.co/6cNaxGtloL#TodosSomosMacacos

— Súper Bueno (@SuperBuenoViaX) April 29, 2014
The spectator who threw the banana was identified within 24 hours of the incident.
It is not the first time that the 30-year-old full-back has been the butt of a racist taunt in Spain, where he has been playing for more than a decade, first at Sevilla and then at Barcelona.
Brazil's President Dilma Rousseff was among the first high profile figures to comment on the latest offense. Rousseff said: "The player Dani Alves gave a daring and strong response to racism in sport."
FIFA president Sepp Blatter tweeted on Monday that "what @DaniAlves2 tolerated last night is an outrage. We must fight all forms of discrimination united. Will be zero tolerance at #World Cup."
Barcelona also issued a strong message of support for Alves.
"FC Barcelona wishes to express its complete support and solidarity with our first team player Dani Alves, following the insults he was subjected to from a section of the crowd at El Madrigal on Sunday during the game against Villarreal," was the club's official statement.
Barcelona opponents Villarreal released a statement expressing their "absolute rejection of any act of violence, discrimination, racism and xenophobia."
"The club has already identified the author and has decided to withdraw his season tickets, permanently banning his access to El Madrigal."
Daniel Alves explained how he managed to remain calm and become an example for all the people that face racist attacks.
Alves said: "I have been in Spain 11 years and it has been the same for 11 years. You have to laugh at these backward people. We are not going to change it, so you have to take it almost as a joke and laugh at them."
"We are all monkeys"
Football stars and other well-known personalities publicly supported Alves.
Team-mate and compatriot Neymar posted a photograph of himself on Instagram showing himself eating a banana.
"We are all monkeys, we are all the same. Say no to racism! It's disgraceful that such shameful prejudice exists in 2014," Neymar wrote.
He was soon followed by Milan's Mario Baloteli and Monaco's Eric Abidal.
Mario Baloteli
[Fotogalería] #Todossomosmacacos, la campaña contra el Racismo http://t.co/BOF2KDnk3apic.twitter.com/hWjkgoW6Hb

— La afición (@laaficion) April 29, 2014
Eric Abidal
C'est bon la banane,surtout si c'est #ContreLeRacisme#SayNoToRacism. Ami DaniAlvesD2</a> <a href="https://twitter.com/search?q=%23todossomosmacacos&amp;src=hash">#todossomosmacacos</a> <a href="http://t.co/bOIaczrn1k">pic.twitter.com/bOIaczrn1k</a></p>&mdash; Eric Abidal (EAbidalOfficial) April 29, 2014
English side Chelsea's Brazilian stars Oscar, David Luiz and Willian also posted photos to social media.
Manchester City's Argentinian forward Sergio Aguero tweeted a picture of himself and Brazilian five-time world player of the year Marta both eating a banana.
"With my colleague Marta from Brazil we say #NoToRacism. We are all equal," Aguero stated.
#TodosSomosMacacos, bananas contra el racismo en el fútbol http://t.co/025dF6b987pic.twitter.com/MDrN6szSCY

— AnimalPolitico.com (@Pajaropolitico) April 29, 2014
Former England international striker Gary Lineker tweeted: "Someone in the crowd just threw a banana at Dani Alves. Picked it up, peeled it, ate it, and proceeded to take the corner. Top response."
Someone in the crowd just threw a banana at Dani Alves. Picked it up, peeled it, ate it, and proceeded to take the corner. Top response.

— Gary Lineker (@GaryLineker) April 27, 2014