Happy days: the benefits of making lessons fun
Comments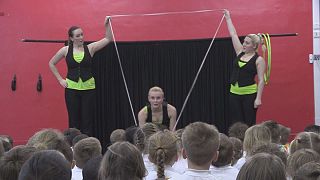 The concept that people learn better when they are enjoying themselves is increasingly accepted and many teachers now use fun activities as a way of teaching complex or abstract notions. We explore some of the games teachers play in this edition of Learning World.
You might not think there is much of a connection between dance and learning maths but, as we learn in our first report, dancing can help youngsters learn how to master equations.
In our first story we get in step with a dance group helping youngsters in England conquer their maths anxiety.
Our intrepid reporters do some detective work in Portugal for the second story. Visionarium is a center of science that allows a kid to become a budding Sherlock Holmes while learning the skills of forensic science.
Making learning fun is also the mission of Moscow's Museum of Natural Sciences. In our final story we take a look at the amazing and enlightening experiences on offer for visitors to Experimentanium.
So far on our social media pages, most of our viewers agree that making learning fun gets good results. What do you think? Visit us on Facebook or via Twitter and let us know.