Ukraine as it happened: Pro-Russian freeze Ukrainian army operation in Kramatorsk
Comments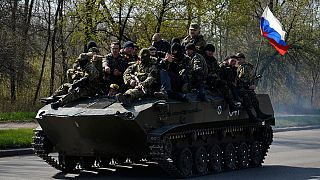 Military alliance NATO said on Wednesday it had decided on a series of immediate steps to reinforce its forces in eastern Europe because of the Ukraine crisis.
"You will see deployments at sea, in the air, on land to take place immediately, that means within days," NATO Secretary-General Anders Fogh Rasmussen told a news conference after the decisions were taken by NATO ambassadors.
Ukrainian government forces and separatist pro-Russian militia staged rival shows of force in eastern Ukraine on Wednesday amid escalating rhetoric on the eve of crucial four-power talks in Geneva on the former Soviet country's future.
Government troops drove seven armoured personnel carriers flying the Ukrainian flag into the town of Kramatorsk after securing control of a nearby airfield from the rebels on Tuesday, prompting Russian President Vladimir Putin to warn of the risk of civil war.
But just 15 km (nine miles) away, armed men in different types of combat fatigues drove six armoured personnel carriers, one flying the Russian flag, into the town of Slaviansk, stopping outside the town hall, which is occupied by separatists.
In the industrial city of Donetsk, at least 20 armed separatists occupied the city council building, a spokeswoman for the council said.
The muscle-flexing and inflamed rhetoric heightened fears of violence after Moscow-backed gunmen occupied public buildings in 10 eastern towns and cities in the last week.
The Kyiv government is seeking to reassert control slowly and without bloodshed before Thursday's Geneva meeting at which the Russian and Ukrainian foreign ministers are due to meet for the first time in the presence of the United States and the European Union.