Ukraine as it happened: Kyiv calls for UN peacekeepers as pro-Russians approach Putin
Comments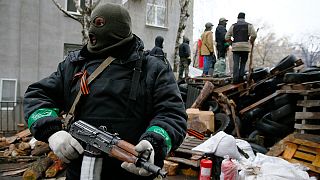 Pro-Russian separatists on Monday ignored an ultimatum to leave occupied government buildings in eastern Ukraine while another group of rebels attacked a police headquarters as a threatened military offensive by government forces failed to materialise.
Rebels in the town of Slaviansk, which was expected on Monday to be the focus of a broad government "anti-terrorist" operation involving the army, issued a bold call for Russian President Vladimir Putin to help them.
Though he said on Monday that the offensive was going ahead, Ukraine's interim president Oleksander Turchinov sacked the state security chief in charge of the operation, that entered in force this afternoon. Earlier Turchinov asked UN's Secretary General, Ban Ki-Moon for the deployment of peacekeeping forces in the East of the country.
Turchinov also took a risky step to try to undercut rebels' demands, by holding out the prospect of a referendum on the future shape of the Ukrainian state. He suggested this could be held at the same time as a presidential election on May 25.
The European Union threatened Russia with more sanctions over its actions in eastern Ukraine, which Britain said was being destabilised by Moscow, although some EU states said diplomacy should be given more time.
The former Ukrainian Prime Minister and presidential candidate, Yulia Tymoshenko called for the organisation of a "national resistance to the Russian agressor" as towns in eastern Ukraine on Monday braced for military action from government forces.