Europe's titans clash for a place in UEFA Champions League Final
Comments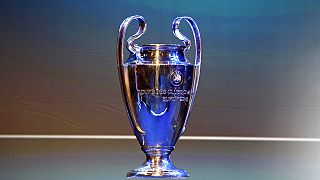 Real Madrid face holders Bayern Munich and Chelsea take on Atletico Madrid in this year's UEFA Champions League's semi finals.
Between them, the four teams seeking a ticket for Lisbon's final have won European club football's top prize 15 times.
Spanish giants Real Madrid have been crowned European champions nine times while reigning champions Bayern have celebrated five titles in the past.
Chelsea won once while Atletico Madrid, the only remaining team not to have the top honour, were runners up once and have won the Europa League twice in the last four years.
Real Madrid vs Bayern Munich
Real Madrid have come up against Bayern Munich twenty times in the UEFA's Champions League and its predecessor the European Cup. The Germans have the better one-on-one record, with 11 wins to Madrid's seven while two games ended in a draw.
The first time these two footballing powerhouses met was back in 1976, again in the semi-finals. In Madrid, the two teams drew 1-1 but Bayern won the return leg 2-0 to qualify for the final.
The last time they played was in the 2012 semi-finals. Bayern won 2-1 in Munich but Real managed to do the same in Madrid. Extra-time ended with the score remaining 2-1 for the Spaniards, but German penalty prowess shone through once again and Bayern went on to the final, where they lost to Chelsea.
Chelsea vs Atletico Madrid
Chelsea played against Atletico Madrid for the first time in 2009 in the group phase of UEFA Champions League. The Blues won 4-0 in London and the two teams tied 2-2 in Madrid.
Most recently, in 2012, Atletico Madrid beat Chelsea 4-1 in the UEFA Super Cup Final.
Courtois faces Chelsea
Belgian goalkeeper Thibaut Courtois, considered by many as one of the most promising young players in the world, plays for Atletico Madrid although is on loan from Chelsea.
The private contract he and the Spanish team signed with London side includes a special fee of 3 million euros in case Atletico choose to use him in a game against Chelsea.
However, UEFA does not recognize the private agreement between the two clubs for the player and therefore he will face Chelsea without Atletico having to pay any kind of fee.