Austrian far-right politician quits EU election campaign
Comments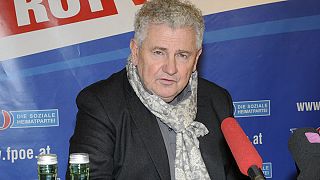 A far-right Austrian politician under fire for racist comments and likening the European Union to the Third Reich quit on Tuesday as a top Freedom Party candidate for next month's EU parliament elections, saying he had lost the party's trust.
Far-right anti-establishment parties are expected to fare well across much of the EU, mining voter dissatisfaction with high unemployment and entrenched centrist parties seen as out of touch, and fear of immigration.
How to handle Andreas Moelzer had become a tricky test for the FPO, which treads a fine line to position itself as a mainstream party electable by voters fed up with creeping EU centralisation but who would not see themselves as far-right.
Moelzer, who had said the EU's aggressive regulation made Nazi Germany look liberal by comparison, told the Austria Press Agency:"Not the continued pressure of the country's whole politically correct media landscape and the feigned outrage of the political establishment, not even the ultra-left hunting party's baiting with the aim of having me criminally prosecuted led me to (this move). "It is the obvious loss of confidence in my party that prompts me to do this."
Pressure had mounted on the FPO to sack party veteran Moelzer, 61, who was supposed to be one of its two top candidates for the EU vote.
He had apologised for saying the European Union was in danger of becoming a "conglomerate of negroes" who lacked the work ethic of the Germans and the Austrians.
He denied he wrote an article in a magazine he publishes that complained today's Viennese looked like "raven-black" Austrian soccer star David Alaba and that one has to visit an old people's home to see what "real Austrians" used to be like.
Moelzer had rejected resignation calls from Austria's other political parties and the leader of its Jewish community.
The FPO is scoring around 27 percent in Austrian national opinion polls, ahead of the governing Social Democrats and conservative People's Party.
(Reuters)
Photo credit CC BY SA Wikimedia Commons/Welt Atlas http://eurone.ws/1e7hGE6