Watch: Northern Chile hit by new 7.8 earthquake
Comments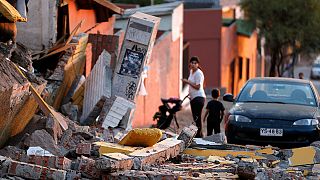 A powerful 7.8-magnitude earthquake struck off northern Chile late on Wednesday but there were no reports of damage and a precautionary tsunami alert along the coast and in neighboring Peru was called off. It was the strongest of several aftershocks that followed a huge 8.2-magnitude quake blamed for six deaths in the same region on Tuesday.
Chile's emergency office Onemi said there were no initial reports of casualties or serious damage from the latest quake. President Michelle Bachelet, who had gone to the area to inspect the damage from the earlier quake, was evacuated from her hotel in the city of Arica.
"I was evacuated like all the citizens and we have come here (to Arica's emergency office) to see if there is any way we can help," she said late on Wednesday night. The area is home to many of the biggest mines in Chile, the world's top copper producer.