Ukrainian women use sex to sanction Russia
Comments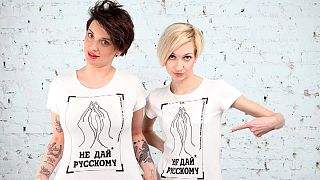 A group of Ukrainian women is taking sanctions of a different kind in response to Russia's annexation of Crimea. They have started a tongue-in-cheek campaign entitled "Don't give it to a Russian", calling for a boycott on sex with Russian men.
Organisers are selling t-shirts emblazoned with the slogan and a verse from the poem 'Kateryna' by famous Ukrainian writer Taras Shevchenko:
"O lovely maidens, fall in love, but not with the Moskaly (the Russians)."
Katerina Venzhik, one of the Kyiv-based founders of the movement, says proceeds from the sale of the t-shirts will be donated to the Ukrainian army.
"We believe that in the context of military occupation of the territory it is silly to continue to assert that all men are brothers," she told Foreign Policy magazine.
Iryna Rubens is another of the "Don't give it to a Russian" activists. The mother of three told euronews her youngest child's favourite word at the moment is "peace". She says she doesn't want to live in the atmosphere of conflict that currently exists in Ukraine.
The ploy of withholding sex dates back to Ancient Greece, where women collectively practiced chastity until men stopped fighting. More recently, there have been similar campaigns in Kenya and Liberia.
It is too early to say whether this campaign will take off as it has yet to catch on in Ukraine. So far, around 200 t-shirt orders have been placed, largely from buyers outside of the country.
Photo credit:
"Don't give it to a Russian" Facebook page