Ukraine orders its forces to leave Crimea in face of Russian threats
Comments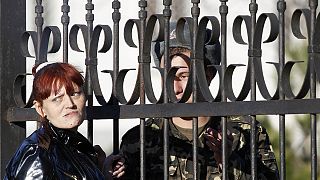 Ukraine is pulling its forces out of Crimea in the face of threats and pressure from the Russian military, acting president Oleksander Turchinov said on Monday.
Turchinov, speaking in parliament after Russian troops entered a key Ukrainian marine base near Feodosia crowning a gradual take-over of Ukrainian military facilities on the peninsula, said the decision had been taken in the face of "threats to the lives and health of our service personnel" and their families.
"The National Defence and Security Council has instructed the Defence Ministry to carry out a re-deployment of military units in Crimea and carry out the evacuation of their families," he said.
(Reuters)