Rise of far-right in Greece down to economic crisis, says Jean-Marie Le Pen
Comments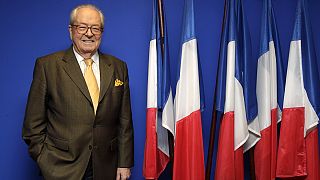 Jean-Marie Le Pen, founder of France's far-right National Front party, has said the rise of Greece's far-right party Golden Dawn is a result of the economic crisis the country is embroiled in.
Several Golden Dawn party members face accusations by the Greek Justice Department of forming a criminal organisation.
In an interview to Athens News Agency – Macedonian Press Agency (ANA – MPA), Le Pen, currently an MEP, said the difficult social and economic situation in Greece has pushed people to support the far-right.
He added he is unaware of the charges that several Golden Dawn members face for forming a criminal organisation and underlined that it is still unclear whether his party would collaborate with potentially elected Golden Dawn members in the European Parliament.
"I can't know whether we could collaborate. We have to see if our political ideas are compatible to those of Golden Dawn" said Le Pen. He added National Front does not believe in the idea of a totally united European Union.