Yanukovych insists on TV he's still in charge of Ukraine
Comments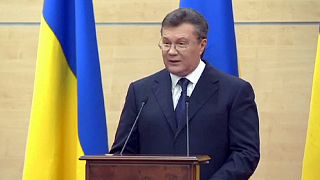 Ousted Ukrainian President Viktor Yanukovych has said in a televised press conference that he is still the legitimate leader of the country.
It was his second statement made from the Russian city of Rostov-on-Don where he fled to when he was removed from power by the Ukrainian Parliament.
"I want to remind you that I am not only still the legitimate president of Ukraine but also the supreme commander of the army and I haven't stopped my duties as president early – I am still alive."
He took no questions from the press after his speech.
Yanukovych claimed that he was still the legitimate leader of Ukraine and that he fled Ukraine because of a direct threat to his and his family's lives.
He added he would return to Ukraine soon.
He called the upcoming May 25 presidential election "illegal" and said that any government voted in would also be unconstitutional
He said the US and West should not be backing or funding the new "bandit" government which had carried out an illegal coup d'etat.
Ukraine crisis - how it unfolded
NOVEMBER 2013
24: Thousands protest in Kyiv over government move to shelve EU association agreement.
DECEMBER
17:Ukraine secures a "11bn euro bailout from Russia.
JANUARY 2014
19:
Up to 200,000 gather in Kyiv to show
opposition to newly-enacted anti-protest laws
. Clashes between police and protesters.
20:
Clashes continue into second day
.
22:
Kyiv Post reports
five killed and 300 injured as
clashes intensify
.
23:
Truce announced which paves the way for arrested protestors to be released.
28:
Prime Minister Mykola Azarov resigns
. Nine of 11 anti-protests laws repealed after vote in parliament. Stand-off continues between police and protesters in Kyiv.
FEBRUARY
18: 20,000 protestors march to parliament with MPs set to debate a possible new constitution. At least 17 people, including seven policeman, are killed as fresh clashes erupt.
19: Truce agreed.
20: Truce breaks down, fresh clashes see 48-hour death toll rise to at least 77.
21:Peace deal signed, with talk of early elections. Violence spreads to western Ukraine.
22:Protesters freely take control of presidential buildings amid reports Yanukovych has fled. Parliament votes to remove him with fresh elections set for May. Yanukovych appears on TV and denounces a "coup d'etat". Opposition leader Tymoshenko released from jail.
23:Tymoshenko ally becomes acting president, saying European integration is a priority.
25: Parliament votes for ousted Yanukovych to be tried at International Criminal Court.
26:Interim government moves to disband Ukraine's riot police force as leaks lift the lid on the high-living of ousted president Yanukovych.
27: Reports emerge suggesting Yanukovych is now in Russia as parliament appoints new pro-EU government. It comes amid fears of separatism after pro-Russian gunmen takeover government building in Crimea.
28: Yanukovych, speaking at a press conference, vows to fight for Ukraine, calls new government illegitimate and denies ordering police to fire on protesters. It comes as gunmen seize airports in Crimea.
MARCH
1:Putin and Russian parliament back use of armed forces in Crimea - prompting UK, and Germany to condemn.
2:Ukraine calls up all its reservists and says country is on brink of disaster. NATO warns Russia over its military activities as Ukrainian navy commander defects to Crimea.
3:UK calls crisis the biggest of this century as Russia reportedly tells Ukrainain forces in Crimea to surrender. Rouble tumbles amid crisis, as foreign minister Sergei Lavrov defends Russia's actions.
4: Putin says Russia has right to intervene but the use of force will be a 'last resort'. Then, Russia, under diplomatic pressure from, among others, the US, agrees to talks.
5: The US and Russia hold crucial talks in Paris as tensions mount in Crimea. Ukraine's new PM accuses Russia of a coup in Crimea as EC puts together much-needed funds for the crisis-hit country.
6:A UN envoy is forced out of Crimea before the region's MPs vote to become part of Russia. US says any referendum in Crimea about joining Russia would be against international law.
7:Tensions continue in eastern Ukraine as US pushes for sanctions over Russia's intervention in Crimea. Obama and Putin, after a crisis call, remain divided.