Breaking down the barriers to equal education rights
Comments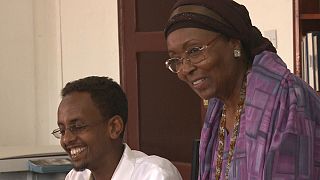 Worldwide, gender inequality remains widespread. In extreme cases in some global regions girls are still sold as child brides, verbally, physically or sexually assaulted and denied access to education.
Even in developed nations committed to gender equality, women often suffer from a lack of opportunity, unfair treatment and simple prejudice.
In this edition of Learning World, presented by Maha Barada, we focus on three women who have defied the odds, overcoming different challenges to reach the top.
Our first report takes us to New York where we meet Grammy-winning singer Angelique Kidjo.
As well as being a top recording artist Kidjo, who was born in Benin, devotes her time to helping girls and women in Africa. One of her projects is the Batonga Foundation which provides education for girls. She is also a UNICEF Goodwill Ambassador.
We stay with an African theme for our second story in which we talk to Edna Adan Ismail, who founded a maternity hospital in Somaliland. That is just one of a list of achievements in a remarkable career that has included a stint as a government minister and senior posts at the World Health Organisation.
She says her success is all down to having had an education, and she is determined that more African girls have the same opportunity.
Our third subject did not have to overcome such adversity, but her achievements in the male-dominated world of diving are amazing nonetheless.
Share your thoughts with us by visiting Learning World's social media pages: