Nigeria: 'At least a dozen killed' in village raid by Islamic sect Boko Haram
Comments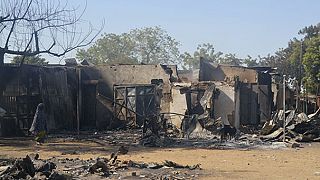 Boko Haram have killed at least a dozen people in a fresh outbreak of violence in Nigeria, it's been claimed.
Gunmen from the Islamic sect carried out the murders during a four-hour siege on villages in the north-east of the country, witnesses said.
It comes just two days after they shot or burned to death 59 pupils at a boarding school – an attack president Goodluck Jonathan called "callous and senseless murder".
The group, fighting for an Islamic state in northern Nigeria, has killed thousands and is the biggest threat to security for Africa's top oil producer.
The latest attack saw gunmen in pick-up trucks speed into Kirchinga village, setting fire to churches and houses, residents said.
They then shot sporadically at fleeing villagers, it was claimed. The owner of a bakery, Martha Yakubu, said she counted 12 dead bodies, including two of her workers. Banks, small schools and dozens of houses were attacked.
The insurgents chased residents into neighbouring Shuwa village, where they torched the house of a local bishop, a theological school and a police station.
The military said in a statement that six members of Boko Haram, one soldier and three civilians were killed in the fighting. Nigerian authorities often play down the military's own casualties and those of civilians, security sources say.
Western governments are concerned about Nigerian groups like Boko Haram linking up with al Qaeda-linked cells in other countries in the Sahel region, like Mali, where France sent troops a year ago to oust Islamist militants.
"Today Nigeria is facing the terrorism of Boko Haram," French President Francois Hollande said on Thursday during the West African country's 100 year anniversary celebrations in the capital Abuja.
"I assure you…your fight is our fight and we will always be ready to not only give you political support, but our help every time it is necessary," Hollande added, without giving details of what help was on offer.