At least 17 dead after renewed clashes in Kiev
Comments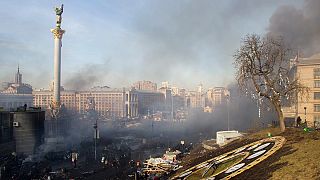 Ukrainian protesters seized back Kiev's Independence Square in fresh clashes with riot police on Thursday that left several injured and possibly 10 demonstrators dead.
The violence came after a truce declared late on Wednesday by President Viktor Yanukovich, who was due to meet the foreign ministers of France, Germany and Poland shortly in Kiev.
The anti-government militants hurled fireworks and other projectiles. Police fired stun grenades.