Transforming Brazil's slum kids, second chances in Corfu and Jordan
Comments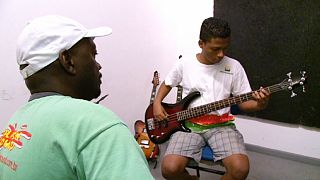 With the football World Cup looming, Brazil is increasingly making international headlines and the slums of Rio de Janero are one of the most talked about topics.
Locally known as favelas, these suburbs are often rife with crime and largely controlled by criminal organisations. Growing up in such a world, children are often pulled into a life of crime.
But one non-governmental organisation is trying to change that. Afroreggae employs music and dance to reach out to local communities, in the hope of changing the trajectory of many of the area's young.
Daniella, a girl local to Rio's notorious Vigario Geral neighbourhood, told euronews of the opportunities she'd gained: "I began to dance two years ago. I saw some videos on the internet, I liked it and I decided I wanted to be a classical dancer. I like to do exercises and to train hard."
The outreach centres around so-called ambassadors familiar with area and who have experience with its criminal underbelly:
Washington Rimas, who is now a mediator for Afroreggae, explained how he got involved: "I was given a second chance by Afroreggae, through a man called José Junior. He was the person that saw qualities in me that only a criminal had noticed when I was a child. During a two hour conversation, he mapped out qualities that I wasn't even aware I had. Afroreggae transformed me into an articulate person, a representative mediator in conflict situations, someone able to save people from a world of crime."
The scheme has been in operation for 20 years, and its success has led to retaliation from the criminal gangs.
Learning in Corfu
Far removed from Corfu's idyllic backdrop, the Mediterranean island is suffering from a serious education problem.
Many children never complete their compulsory years of learning. That has led to the need for a programme called second chance schools (SCS).
Vicky is one of its entrants. Aged 39, she recently graduated from the course and has since moved on to further study. She welcomed the chance to pursue higher education, having been denied the opportunity earlier in life.
"I was forced to leave school, because I had to work, even though I was too young. I came back, because I wanted to learn, to have the experience and earn my degree," Vicky told euronews.
Along with other adult schools in Europe, the Corfu SCS takes part in a European Commission partnership programme called Grundtvig II , intended to improve the exchange of knowhow between students across the European Union
The emphasis is on teaching basic skills, that can be used either in further learning or just to improve day-to-day life.
Nearly 20 percent of Corfu's inhabitants did not finish compulsory education.
But with the help of the second chance school programme, more people are returning to the classroom.
Jordan's juniors
In the city of Russeifah, 25 kilometres from Amman, Jordan's capital, a similar second chance scheme is underway for children between 13 and 18-years-old.
In Jordan, around 100,000 young people have dropped out of school. After, they are unable to rejoin the formal system and therefore get a college education.
The international organisation Questscope, has run a second-chance programme since 2003 in Jordan. It works with the country's education ministry, which struggles to reach all the poor areas of the country.
Have you benefited from such a second chance programme, or do you know someone who has? Let us know via our social media pages.