Man guilty of waterboarding girl, 11, under kitchen tap
Comments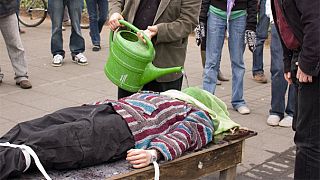 A specialist author on near-death experiences has been found guilty of waterboarding his 11-year-old step-daughter by holding her head under a kitchen tap.
Melvin Morse, a former paediatrician, was convicted by a jury in the US state of Delaware.
Morse, who has written several books on near-death experiences and appeared on "Oprah" and "Good Morning America", could face up to 10 years in prison.
Waterboarding is an interrogation technique where the experience of drowning is simulated.
The jury deliberated for more than five hours before convicting Morse on six of eight counts. They included third-degree assault, endangering the welfare of a child and first-degree reckless endangerment, a felony.
Prosecutor Melanie Withers, who during the trial called Morse a "highly intelligent, manipulative control freak," said she was "very gratified" with the conviction.
His stepdaughter, now 12, told authorities that Morse, 60, had physically abused her, including waterboarding her on four occasions and dragging her across a gravel driveway. Morse's lawyers argued that the girl and her mother, who testified for the prosecution, lied about the abuse.
In his own testimony, Morse denied waterboarding the girl, the daughter of his now-estranged wife Pauline Morse, and said he had only been trying to wash her hair. Earlier in the trial, the girl testified that she had feared for her life during the process.
Typically associated with the interrogation of terrorism suspects, waterboarding in general involves holding a cloth over a person's face and flooding it with water to simulate drowning.
The girl's mother, Pauline Morse, who also testified at the trial, pleaded guilty to misdemeanor charges in May.