Watch: Sinkhole gobbles up 8 vintage Corvettes at Kentucky museum
Comments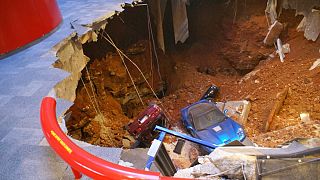 A 40-foot sinkhole opened up under the National Corvette Museum in Kentucky on Wednesday and swallowed eight collector cars, including the historic one millionth Corvette built in 1992.
No injuries were reported, but a 1993 ZR-1 Spyder and a 2009 ZR1 "Blue Devil" on loan from General Motors Co were among the iconic cars piled up in the gaping pit.
"It seems almost Biblical in a way, to have the ground open up and swallow the cream of the collection of the museum," said Corvette historian Jerry Burton. "What are the odds?"
Alarms went off early Wednesday morning in the "Skydome" area and museum security officers who rushed to the scene discovered the sinkhole, 25 to 30 feet (7.6 to 9 m) deep.
The Bowling Green Fire Department estimated its width at 40 feet (12 m). Security camera footage posted on the museum's web site shows two cars falling in as the hole opens up. Museum spokeswoman Laura Johnson said other cars near the sinkhole have been safely removed, and the museum was now trying to find a way to pull up the damaged Corvettes.
In addition to the White 1 Millionth Corvette, a 1962 Black Corvette, a 1984 PPG Pace Car, a 1993 Ruby Red 40th Anniversary Corvette, a 2001 Mallett Hammer Z06 Corvette and a 2009 White 1.5 Millionth Corvette were among the damaged cars owned by the museum.
Burton said the millionth Corvette, which was never sold, was likely the most valuable car and could fetch "several million dollars" from the right buyer. The facility will be closed on Wednesday, while a structural engineer assesses the damage, the museum said. It will reopen Thursday, but the Skydome area will be blocked off.
That region of south central Kentucky contains many caves and sinkholes, known as "karst" topography. Mammoth Cave National Park is about 20 miles from Bowling Green."It's not uncommon for us to see sinkhole collapses," said city spokeswoman Kim Lancaster. "Most are significantly smaller than the one we have today."
Bowling Green city hydrologist Tim Slattery said when the museum was constructed, builders "did do their due diligence" on the area's geography. But sinkholes can develop over time, as water goes underground and carries soil with it, he said. GM builds Corvettes at a plant near the museum, which opened in 1994.
The value of the damage was not immediately known, as most are one-of-a-kind collector cars with no similar sales figures to use as comparison, according to Sam Murtaugh, marketing director at Mecum Auctions of Wisconsin.
"How do you even begin to place a value on the 1 Millionth Corvette built?" Murtaugh said in an e-mail. "It's irreplaceable."
Dave Chrisley, president and co-founder of the Bowling Green Assembly Corvette Club, which was started by plant workers, said he believes the cars on loan from GM were the most valuable -especially the Spyder.
"You'd have to auction it to even put a price on it," said Chrisley. "I couldn't even give you a ballpark. It was a concept car."
The museum's Facebook page was filled with comments from devastated auto fans, including one suggesting that flags be lowered to half-staff "to honor the fallen vettes."
REUTERS