Libyan port rebels see deal possible within weeks
Comments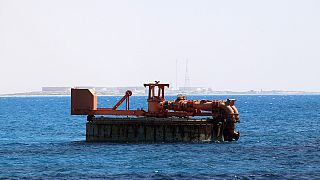 A deal to lift an armed blockade of Libyan oil ports and restart exports could be possible within two weeks, after talks with the government advanced on key demands, a senior leader of the protest movement said.
Abb-Rabbo al-Barassi, prime minister of the self-declared eastern region government, told Reuters that Tripoli and his federalist movement are closing the gap, and a deal to resolve the standoff at oil ports could be weeks away.
"I see progress with the state, the government, the General National Congress assembly," he said in an interview at the group's base in Ajdabiya. "I think it won't take longer than two weeks to reach a deal, God willing. Maybe even less than that."
The group, led by a former rebel who once battled leader Muammar Gaddafi, seized three major eastern ports in summer to demand a greater share of oil wealth and more regional autonomy, choking off 600,000 barrels per day of oil exports.
Prime Minister Ali Zeidan's government in Tripoli has been trying to reopen the ports as it faces a budget crunch that risks deepening unrest in the OPEC producer. Oil exports,
Libya's lifeline, have more than halved since summer.
Reuters