Ukraine, chronology of a struggle
Comments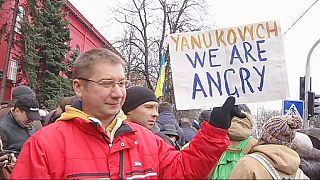 In Kyiv's parliament, members began pushing back against President Viktor Yanukovych in November, on the 21st. The pro-European-integration opposition chanted: "Shame!"
The trigger: those in power had just hung up on signing a much promoted and desired association agreement with the European Union, after working long and hard on it.
The following day, Prime Minister Mykola Azarov tried to explain that the government's u-turn was a direct consequence of financial constraints the International Monetary Fund sought to impose on Ukraine.
Azarov said: "The decision to suspend was solely for economic reasons, and it is a tactical move. It does not change Ukraine's strategy of developing integration with the EU in any way."
By November 24, there was a great crowd of demonstrators in Independence Square, Maidan Square, gathering place of the peaceful Orange Revolution of 2004. The emboldened opposition called for the government to step down.
Arseniy Yatsenyuk of the Batkivshchyna party said: "People ask for justice, as a first step we urge the government of Ukraine to resign and we [demand a] snap election."
The government dug in its heels.
Opponents went to work chipping away at a statue of Lenin in central Kyiv.
Meanwhile, President Yanukovich was accepting a Russian aid package of 11 billion euros, but, far from calming things down, it inflamed protests.
Then insult was slapped onto injury, when measures were passed, by contested voting in parliament, to toughen the law against public demonstrations.
It had the effect of pouring oil on a fire; in Maidan Square and Kyiv's streets, clashes increased between the police and Ukrainians who refused to accept the government's control campaign.