Fresh warnings from US security experts on Sochi terror threats
Comments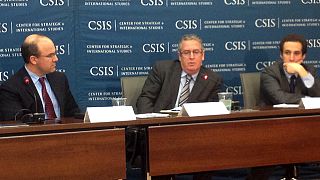 US security experts have voiced new security concerns ahead of the Winter Olympics in Sochi, as Russian authorities were trying to hunt down alleged female suicide bombers believed to be in or near the Black Sea resort.
Talking to journalists at the Center for Strategic and International Studies (CSIS) in Washington, former US Deputy National Security Advisor, Juan C. Zarate, warned of "clear threats" from terrorist groups operating in the North Caucasus.
These groups are focusing on vulnerable "soft targets like transportation hubs", said Zarate, who was responsible for developing and implementing the US government's counterterrorism strategy and policies related to transnational security threats during President George W. Bush's second term.
It was the first time the CSIS had organised a press briefing devoted to security issues at a global sports event. It followed a travel warning for the games, issued by the US State Department earlier this month.
In the briefing, the Director of the Center's Russia and Eurasia Programme, Andrew C. Kuchins, said that a large part of the danger simply stems from the choice of Sochi as Olympic host city. Never before have Olympic Games been held so close to a regional conflict zone which is the North Caucasus, he said.
The North Caucasus is the region to which at least one of the Boston Marathon bombers was connected.
Can Russian security do the job?
Kuchins questioned the capabilities of the Russians authorities to protect athletes and other attendees of the Sochi Games appropriately. "Russia has no experience with securing such an event of this magnitude", he said. The 1980 Moscow summer Olympics, boycotted by some Western nations and hosted by the Soviet regime, took place in a different political environment and at a different time, Kuchins added.
In addition, Russian security services – despite being considered ruthless and effective – focus on securing the government, not the public in general, said Jeffrey Mankoff, Kuchins' deputy at the CSIS and a former US State Department advisor on US-Russia relations.
Russia began implementing stringent security measures in Sochi in early January. Tens of thousands of Russian police, security agents, rescue workers and army troops are expected to be deployed for the games.
Mankoff said a major security problem in Sochi is corruption. The Sochi Winter games are set to become the most expensive in Olympic history, but a lot of money has already been "misappropriated, embezzled or stolen" Mankoff said. Potential terrorists can easily "bribe their way through security checkpoints", he added.
US assistance diplomatically delicate
The US military has confirmed there are plans to provide US assistance in Russia if an evacuation is necessary. Aircraft will likely be on alert at European bases with two US Navy ships patrolling the nearby Black Sea.
But US support on the ground is difficult and diplomatically delicate. In case of an emergency, the Russians want to control all security activities and may reject US support. "The general feeling in Russia is: We can do this on our own, we don't need your help", Kuchins said.
The worst-case scenario is to evacuate the US Olympic team members, according to the security experts. But he added: "Pulling US athletes out of the games would be disastrous. Nobody wants it, it would be a victory for the terrorists."