Explosion hits Beirut's southern suburbs, at least two killed
Comments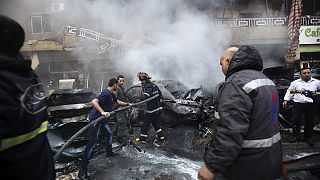 An explosion rocked Beirut's southern suburbs on Tuesday, witnesses and local media have said, hitting a Hezbollah stronghold that has been the repeated target of car bomb attacks in recent months.
A local news agency reported the explosion was due to a car bomb that killed at least two people. Another contradictory report from a security source, quoted by Reuters, attributes the blast to a suicide bomber wearing an explosive belt. The source said another 20 people were wounded in the explosion.
Images broadcast on the Shi'ite Muslim militant movement's Al Manar channel showed flames erupting from a building. The footage also showed a large plume of smoke billowing over a street near the charred remains of cars, as a crowd gathered at the site of the blast.
Al Manar reported that the explosion occurred in the Haret Hreik area, which was the target of a car bomb attack earlier this month that killed at least five people. Tensions from the war in neighbouring Syria have increasingly spilled over into Lebanon.
The politically powerful Hezbollah has sent fighters and advisers into Syria to help its ally President Bashar al-Assad, a member of the Shi'ite-derived Alawite minority, in his fight against mainly Sunni rebels. Hezbollah-run areas in Lebanon have been targeted by a string of rocket and bomb attacks in recent months, claimed by hardline Sunni militants.
(with agencies)