Triumphant comeback for British tennis star Ross Hutchins after cancer battle
Comments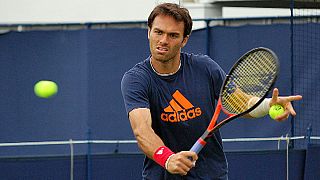 British tennis player Ross Hutchins has played many matches on the tennis courts, but last year he faced a different kind of battle, a battle for his own life. His opponent was cancer.
Hodgkin's lymphoma
Also known as Hodgkin's disease, Hodgkin's lymphoma is a type of cancer originating from white blood cells called lymphocytes. It is characterised by the spread of disease from one lymph node group to another. The cancer can be treated with radiation therapy, chemotherapy, or hematopoietic stem cell transplantation, with the choice of treatment depending on the age and sex of the patient and the stage or subtype of the disease. The disease occurrence shows two peaks: the first in young adulthood (age 15–35) and the second in those over 55 years old.
Hutchins started a course of chemotherapy after doctors diagnosed him with Hodgkin's lymphoma, a type of cancer originating from white blood cells called lymphocytes.
But after extensive treatment Hutchins aced the fight against this disease and just 12 months after he was initially diagnosed, the 28-year-old managed to get back on the court.
After a rather shaky start on the third day of the Australian Open, Hutchins and his Scottish partner Colin Fleming advanced to the second round with an impressive 4-6, 6-4, 6-0 win over Marinko Matosevic and Michał Przysiężny.
"It's an amazing feeling to be back, and especially to get our first win," Hutchins said. "I'm loving the feeling right now."
Scottish tennis star Andy Murray, a close friend of Hutchins, was astonished by his historic come back.
"I can't believe how quickly he managed to return to the courts" Murray is quoted as saying.
In May 2013, another tennis player, 24-year-old Russian Alisa Kleybanova, also made a heroic return to the courts after battling Hodgkin's lymphoma.