Fidel Castro shows himself after nine months lying low
Comments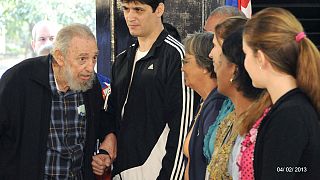 Just days after his Communist Revolution's 55th anniversary, former President Fidel Castro has been seen in public, for the first time since last spring.
Although the 87-year-old has circulated little since 2006 when he appointed his brother Raul his successor, official newspapers showed him at a Havana art studio opening on Wednesday evening, with Cuban artist Alexis Leyva.
Fidel conversa con el pintor Kcho durante la inauguración del Estudio de Arte del Romerillo. Foto: Alex Castro pic.twitter.com/6fhPMHh3yG

— Cubadebate (@cubadebate) 9 Janvier 2014
In December Fidel Castro met visiting Venezuelan President Nicolas Maduro, privately.
He has been a controversial figure ever since 1959 when he and his guerrilla army stormed onto the world stage, overthrowing the regime of Fulgencio Batista.
His advanced age has prompted increased speculation about his weak health.
El tiempo pasa. Este anciano es el comandante Fidel Castro Ruz, visto ayer en La Habana pic.twitter.com/NJL5OPO9pE

— Soriano (@mmsoriano) 9 Janvier 2014