Michael Schumacher's family thanks fans for messages of support
Comments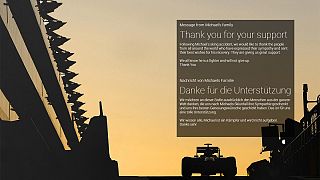 Members of Michael Schumacher's family have expressed their thanks for the messages of support they have received since the former F1 World Champion's skiing accident.
The 44-year-old is in intensive care at a hospital in Grenoble after suffering serious head injuries in a fall while skiing off-piste in the French Alps.
In a message posted on the official website of Michael Schumacher the family said:
"Thank you for your support
Following Michael's skiing accident, we would like to thank the people from all around the world who have expressed their sympathy and sent their best wishes for his recovery. They are giving us great support.
We all know he is a fighter and will not give up.
Thank You".
It's expected that many more messages of support will arrive tomorrow, January 3: Schumacher's 45th birthday.