Priest's joy as 'fake' €478 Anthony van Dyck painting turns out to be €478,000 genuine
Comments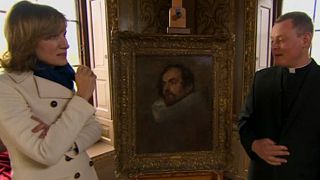 He is the British priest who wanted to sell a seemingly modest €478 painting to raise money for some new church bells.
But, when Father Jamie MacLeod took the 'fake' Anthony van Dyck piece to be valued by BBC television show Antiques Roadshow, he got more than he bargained for.
A lot more. The show revealed it was a genuine piece by the Flemish court painter and could be worth around €478,000.
Fiona Bruce, the presenter of the television show, which tours the UK valuing people's normally modest antiques, is credited with the discovery.
Bruce first saw the painting after she had just finished – coincidentally – making another television show about the Flemish painter, spending weeks "looking at nothing but Van Dyck paintings".
She had a hunch Father MacLeod's 'fake' was a genuine and after months of restoration work was proved correct by Van Dyck expert Dr Christopher Brown.
It is now the most valuable painting ever discovered on the Antiques Roadshow, which has been running for 36 years.
Fiona Bruce said: "It's everyone's dream to spot a hidden masterpiece, I'm thrilled that my hunch paid off, to discover a genuine Van Dyck is incredibly exciting. I'm so pleased for Father Jamie."
Father Jamie, who runs a retreat house in the Peak District, said: "It's been an emotional experience and it's such great news. It's wonderful that new church bells hopefully will be pealing out to commemorate the centenary of the First World War in 2018."