Freed Pussy Riot member dismisses Putin's amnesty as "PR stunt"
Comments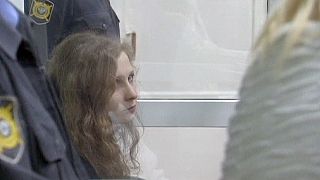 Pussy Riot punk band member Maria Alyokhina walked free from jail on Monday, immediately dismissing the Kremlin's amnesty that granted her early release as a stunt that would not change her attitude to President Vladimir Putin. Alyokhina, 25, one of two women serving two-year sentences for a profanity-laced protest against Putin in a Russian Orthodox church in 2012, was released under the amnesty the president has said would show the Russian state is humane.
They were convicted of hooliganism motivated by religious hatred for their "punk prayer" criticising Putin's ties to the Church, and had been due for release in March. Alyokhina echoed critics who said the amnesty proposed by Putin was far too narrow and appeared aimed at deflecting criticism over human rights before Russia hosts the 2014 Winter Olympics in Sochi in February. "I do not think it is a humanitarian act, I think it is a PR stunt," she said by telephone in comments to the Russian Internet and TV channel Dozhd. "My attitude to the president has not changed."
In addition to the amnesty, Putin unexpectedly pardoned Mikhail Khodorkovsky, the Russian former oil tycoon who is widely seen by Kremlin critics and Western politicians as a political prisoner. Khodorkovsky, who was freed after more than a decade in jail and flown to Germany, said Putin is seeking to improve Russia's image while also showing that he is confident in his grip on power after weathering large opposition protests and winning a third term last year. Putin wants to send "a signal to society and the world that he feels secure and is not afraid", Khodorkovsky said in an interview with he Russian magazine the New Times.
Lawyers say the amnesty will also enable 30 people arrested in Russia after a Greenpeace protest against Arctic oil drilling to avoid trial on hooliganism charges, removing another irritant in ties with the West. Putin said the amnesty was not drafted with the Greenpeace activists or Pussy Riot in mind. Looking confident and relaxed during an annual news conference last week, he described Pussy Riot's protest as disgraceful, saying it "went beyond all boundaries". Human rights activists have said the amnesty is far too limited, estimating will free fewer than 1,500 convicts, a small fraction of the nearly 700,000 Russians behind bars.
Alyokhina, bundled in a thick green prison jacket and with her long curly hair loose, smiled as she left detention in the company of her lawyer and told Reuters she was feeling well. She said that had it have been possible for her to refuse the amnesty, she would done so out of solidarity for those still in jail and that she now planned to lobby for prisoners rights. "I was keen to reject this amnesty, but the prison had received an order that is why I was brought here," she told Reuters. "I would like now to deal with the issue of prison, I would like to engage in human rights … I'm not afraid of anything anymore – believe me."
Pyotr Verzilov, the husband of fellow band member Nadezhda Tolokonnikova, 24, who is also due to be freed under the amnesty, which covered inmates convicted of hooliganism and mothers of young children, was awaiting her release outside a jail in the Siberian city of Krasnoyarsk. A third band member, Yekaterina Samutsevich, was released last year when a judge suspended her sentence on appeal. Tolokonnikova's father Andrei told Reuters last week he sees his daughter's planned release not an act of mercy but "an absolutely cynical game" of public relations ahead of the Olympics.
(Reuters)