Two children freeze to death in Syria as snow storms sweep across Middle East
Comments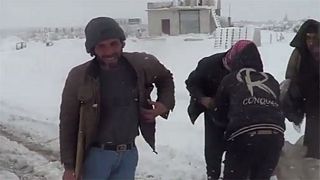 Two children have frozen to death in Syria as wintery storms sweep across the Middle East.
Syrian activists told AFP a six-year-old baby had died because he was in a war-damaged home exposed to the weather.
Snowfall, heavy rain and freezing temperatures have also hit Lebanon – where they are Syrian refugee camps – Jordan, Eygpt, Israel, Turkey and the Palestinian Territories.
In Jerusalem weather experts said it was the worst storm to hit the city for 60 years, with snow reported to be 50cm deep in some areas.