Ukraine: video shows police violence against protester during Kiev demo
Comments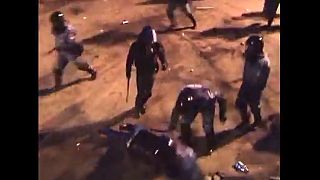 When more than 100,000 pro-EU protesters took to the streets of Ukraine on December 1, the flashpoint came near the Presidential Administration Buildings in the city centre, where a throng of protesters who attempted to storm the building were driven back by riot police.
A local station in Ukraine, Dytynets, released this video from that incident on December 4. It shows a man being hit repeatedly by passing riot police as he lies prone on the ground.
An investigation into alleged cases of both police brutality and protester rioting is currently under way.
Kiev's medical authorities said 112 people were given first aid treatment for injuries on Saturday, 42 of whom were kept in hospital. Police said 100 officers had been injured in the violence during the day.
An online TV station, called Public TV, on Sunday listed 29 journalists, mainly cameramen and photographers, who had suffered at the hands of police while covering the weekend events in Kiev.
Ukrainian police on Thursday gave demonstrators five days to leave public buildings they have occupied in protest against a government policy lurch back towards Russia, as ministers at a European security conference urged a peaceful end to the confrontation.
Prime Minister Mykola Azarov defended his government's handling of the crisis since Kiev walked away from a trade deal with the European Union, and clashed with Germany's foreign minister over charges that police had used excessive force against the protesters.
"Nazis, extremists and criminals cannot be, in any way, our partners in 'eurointegration'," the government website quoted Azarov as telling Germany's Guido Westerwelle, referring to protesters who have blockaded the main government offices and occupied other public buildings.
(with agencies)