[Video] French inmates resuscitate the Harlem Shake from behind the bars
Comments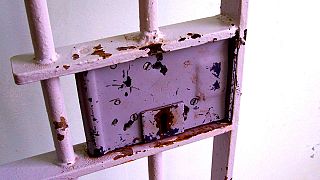 The Harlem Shake craze that swept the world in the first months of 2013 has been resuscitated by inmates in a prison in north-west France, local media report.
The grainy video, shot illegally with a cell phone inside one of prison's hall, follow the same script as every Harlem Shake video. At first, a lone dancer dances in the front of the camera. Then, after a drop in the music, the footage cuts and he is joined by a dozen other dancers, all masked and gesticulating, for the remainder of the 43-second video.
The video, entitled "HARLEMSHAKEGANGSTER D TER Derrière les Barreaux en soutien a MARLO et RIFIN67", (Harlem Shake Gangster D TER Behind Bars To Support MARLO and RIFIN67), has seemingly been made to support one hip-hop crew in an Internet feud against another group. The inmates can be seen wearing "Gangster D Ter" t-shirts, the name of the crew.
Youtube clash between hip-hop crews
The director of Montmédy prison said that an administrative enquiry had been launched to find out how the video was shot and to see how inmates and wardens might have been involved.
The Montmédy prison hosts about 320 inmates and 75 wardens.
Another video shot in Montmédy prison has been the source of considerable controversy: it shows a man sporting an inmate's fleece jacket, complete with insignia and rank, smoking a rolled-up cigarette – or a joint, as the person behind the camera calls it, talking to the camera and to inmates. It is unclear at the moment if the person in the video is actually an inmate from the prison.
In February 2013, inmates at the high-security prison of Lannemazan had reportedly posted videos of themselves with a makeshift knife, insulting and threatening a rapper enemy of the "Gangster D Ter" crew.
The Harlem Shake world map
Credit photo CC BY Flickr/Randy OHC http://eurone.ws/1k5ljYd