Alcoholics paid in beer for cleaning streets in Amsterdam
Comments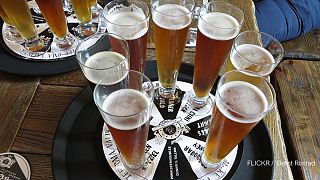 A group of alcoholics in Amsterdam that was causing a public nuisance has been put to work cleaning the city's streets. The group of men suffering from a chronic level of addiction usually find it impossible to hold down a job but have been persuaded to work under an imaginative scheme that sees them paid in beer and cigarettes.
For a day's work each one is rewarded with half a packet of rolling tobacco, five cans of beer and 10 euros. To keep the workers motivated the beers are handed out in three doses: two in the morning, two at midday and one in the afternoon, once the work is done.
The project, run by the Rainbow Foundation, is financed by the Dutch state and donations. Gerrie Holterman, head of the organization, told AFP: "This group of chronic alcoholics was causing trouble in Amsterdam's Oosterpark: fights, noise, disagreeable comments to women."
"The aim is to keep them occupied, to get them doing something so they no longer cause trouble at the park" she explained.
Split into two groups of around ten people, the alcoholics work three days a week. The average day starts at 9 o'clock when each one is offered two beers and a coffee before heading off to clean the nearby streets.
"We need alcohol to function, that's the disadvantage of chronic alcoholism" admitted 45-year old Frank.
For lunch, the team gets two additional beers as well as a warm meal before going out again for the afternoon shift.
At around 15:30 the shift is over and each gets one last beer.
"You have to see things like this, everyone benefits" said Holterman. "They're no longer in the park, they drink less, they eat better and they have something to keep them busy during the day."
The original approach to the problem may seem shocking to some, but in the Netherlands they are used to taking a pragmatic stance.
However, there have been mixed reviews from the workers about whether the job really reduces their drinking.
Frank told AFP, "When we leave here, we go to the supermarket and transform the 10 euros we earned into beers."