More than 1,000 students trapped in China by floods triggered by Typhoon Haiyan
Comments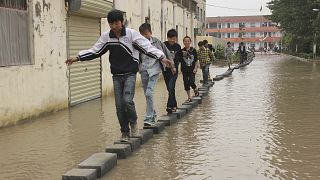 More than 1,000 students and their teachers at a school in Guigang City in China were trapped by floods after rainstorms triggered by Typhoon Haiyan swept the area.
Guigang City is situated in the southwest of the country in Guangxi Zhuang autonomous region.
This video shows the heavy flooding and trapped students at the the No. 1 Middle School of Sanli Township on November 12.
Death tolls rises
The official death toll in Hainan province and the Guangxi Zhuang autonomous region rose to 10 after Typhoon Haiyan grazed the coast of southern China.
Typhoon Haiyan caused traffic chaos and damaged farmland in Hainan province while millions of people are affected according to local authorities.