Protester nails testicles to Red Square pavement
Comments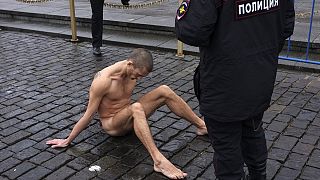 Pyotr Pavlensky chose a rather painful and unique way to protest on Sunday in Moscow's famous Red Square.
The St. Petersburg performance artist hammered a nail through his testicles and into the cobblestones of the square near to Lenin's Mausoleum.
"A naked artist, looking at his balls nailed to the Kremlin pavement, is a metaphor for the apathy, political indifference, and fatalism of contemporary Russian society"' Pavlensky wrote in a statement according to the Moscow Times.
Policemen quickly covered Pavlensky's body with a blanket. After being removed from the pavement, the young artist was taken into custody and hospitalized. According the Russian news agency RIA Novosti, a Russian judge decided not to consider criminal charges against the shock artist.
Pavlensky has quite a history of extreme performance pieces.
In July 2012, he sewed his mouth shut and carried a sign to protest against the imprisonment of the band Pussy Riot in front of Kazan Cathedral in St. Petersburg.
In May, he was left, naked and wrapped in barbed wire, in front of the St. Petersburg Legislative Assembly Building.
After the protest, he spent several days in police custody. Also, he underwent psychiatric examinations that concluded that he was legally sane.
Odd protests in Russia
This is definitely not the first time odd protests have taken place in Russia.
On July 13th 2012, a Russy Riot supporter staged her 'crucifixation' outside a central St. Petersburg church.
On April 8th 2013, Russian President Vladimir Putin and German Chancellor Angela Merkel came face to face – or face to breast – with naked FEMEN activists as they toured an industrial fair in Hanover.
On August 28th 2013, police in Russia seized a painting of Russian President Vladimir Putin and Prime Minister Dmitry Medvedev wearing women's lingerie from an art gallery in St Petersburg.
Read the lyrics and watch the video of Pussy Riot's 'Virgin Mary, Put Putin Away' the punk prayer that earned them two years in jail.
Another protest performance 'against president Putin's homophobic laws and the general lack of human rights and free speech in Russia' was the song 'Beauty with Brains' by Dolly Bellefleur recorded in Amsterdam.
*Watch the video *