Severe storm batters southern Britain causing travel chaos
Comments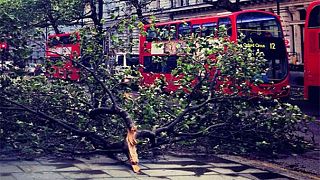 TWO people have died as winds of up to 99mph (160km/h) batter southern parts of Britain today.
A 17-year-old was killed when a tree fell on her mobile home in Edenbridge, Kent.
A man died in Watford after a tree fell on a car.
There is widespread travel disruption as rail companies suspend services and highways authorities close off bridges.
London's Heathrow Airport is also affected, with around 130 flights cancelled.
UK Power Networks says around 220,000 homes are without power.
A 14-year-old was swept away by the sea in stormy conditions on Sunday evening. Coastguards are expected to resume their search for the boy – who went missing at Newhaven, Sussex – this morning.
The strongest winds recorded so far were at England's Isle of Wight, which saw gusts of 99 mph (160 kph) at 0700 CET, the Met office said.
The storm is being dubbed St Jude, after the patron saint of lost causes who is traditionally celebrated on October 28.
There have been many comparisons made with a storm that hit the UK in 1987, which killed 18 people and felled around 15 million trees.
"The thing that's unusual about this one is that most of our storms develop out over the Atlantic so that they've done all their strengthening and deepening by the time they reach us," Met Office spokeswoman Helen Chivers said.
"This one is developing as it crosses the UK, which is why it brings the potential for significant disruption … and that doesn't happen very often."
Storms and strong winds are also expected to hit parts of the Netherlands on Monday, the Dutch Meteorological Institute said.
Amsterdam's Schiphol airport, one of Europe's busiest, said the storm could lead to flight delays or cancellations, while the national railway said train services could be disrupted.
If you have photos or videos of the storm that you would like to share with our audience, please send them to witness@euronews.com