Greek police reveal identity of Roma couple who deny abducting 'Maria'
Comments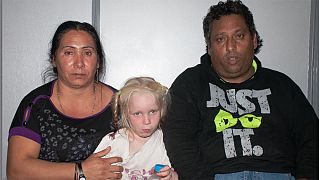 This is the Roma couple who have appeared in court in Greece accused of abducting a four-year-old girl.
The youngster, known as 'Maria', was discovered during a raid on a Roma community in central Greece.
The pair, named by Greek police as Salis Christos and Sali Selini, told magistrates 'Maria' had been given to them by her mother and a Bulgarian Roma, when she was still a baby.
The pair's lawyer has asked for the authorities to trace a mobile phone they say was used in the handing over of the baby.
Kostas Katsavos added: "Our clients' claim is that 'we never abducted this child we just adopted her', in a way that was not legal. That we can confess,"
The couple's testimony continues.
Greek police launched an international appeal to identify the youngster, sparking thousands of responses.
Officers then charged Christos and Selini with the girl's abduction.
The parents of missing British girl Madeleine McCann have reportedly been given hope by the discovery of the child, who is in the care of a Greek charity.