Aid in the 21st Century - Red Cross calls for technological revolution
Comments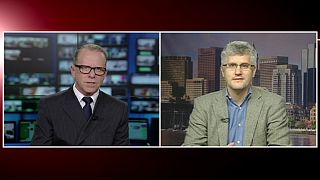 It swept the Philippines at 210 kilometres per hour, causing 1,901 deaths… The International Federation of Red Cross and Red Crescent Societies annual World Disasters Report cites the deadliest natural disaster of 2012: Typhoon Bopha.
Last year saw fewer deaths than in the 10 years before it, but it ranked as the fifth-costliest year in material terms. For that, the number one disaster was Hurricane Sandy, which scoured and battered and submerged the United States east coast in October 2012. The price tag on cleanup after Sandy was 50 billion dollars.
The 2013 Red Cross disaster report takes a close look at how technology can help with humanitarian activities. When there is a natural catastrophe, access to information is as important as to food and drink. NGOs are taking to geo-spatial mobile technology to collect data in real time in relation to people affected or about to be. You can warn a whole population in a hurry if it has smartphones.
Craig Cooper with the American Red Cross said: "The old idea of turning on the TV news and listening to the radio has in many ways been replaced by people using a cellular device or something to stay in touch. We know that during the earthquake in New Zealand, just this year, a couple of people were located by tweeting where they were trapped in buildings. So this type of thing is now becoming more and more prominent, and we are seeing that people are using social media as a way to find information before a disaster and specifically after a disaster."
When people do not have access to technology that others do, that is called the 'digital divide'. Yet even in camps in Haiti, most people have a cell phone.
Text messaging by phone can let the Red Cross reach millions. People get practical information, say storm alerts or where to go for first aid or steps to take when infectious disease threatens, such as the cholera epidemic after the 2010 earthquake in Haiti. The cholera death toll is more than 8,000, and still rising.
Patrick Vinck from the Harvard Humanitarian Initiative is editor of the 2013 World Disasters Report issued by the International Federation of Red Cross and Red Crescent Societies.
This year the publication focuses on technology and the future of humanitarian action.
Chris Cummins, euronews:
"Patrick, what opportunities does this new era of human connectivity, mobile phones, social networking sites offer humanitarian agencies and the communities threatened by natural disasters and violence?"
Patrick Vinck:
"The key question for humanitarians, for communities at risk, is how to make humanitarian assistance more effective. Technology has tremendous potential whether it is helping collect better information using aerial imagery, satellite imagery, but also on the ground interviews that are collected through cell phones, for example. It is also about enabling communities to have a voice, a dialogue though social media through text messages, or through voice calls."
Chris Cummins:
"Where is the drive for developing new technology related to humanitarian relief coming from? Is it from within the humanitarian sector itself, investing in innovation, or does it come from outside agencies keen to get a foothold in what is an emerging and potentially lucrative market?"
Patrick Vinck:
"It is an interesting question, it is really a meeting of minds between people who have ideas, between humanitarians who are established, and of course among humanitarians there are some that are more innovative than others, but there are many obstacles to that question. One of the key risks we outlined in the report is the digital divide. Who has the ability and who has the means to invest in technologies, learn technologies and apply them and who does not?"
Chris Cummins:
"Can we speak about two other recent developments: the speedy delivery of electronic money and biometric identification? Both now play a key role in a humanitarian response. What advantages do they offer those hit by catastrophe?"
Patrick Vinck:
"Electronic money and electronic cash transfer is one of the great examples of technology making a contribution to make humanitarian assistance more efficient. We avoid the risk of leakages, which is a nice way of saying the money does not reach the recipients, but gets [is wrongfully diverted] into the hands of somebody else. It also avoids transaction costs, the overheads associated with physical cash transfer. So it is a really good example of technology being useful and being quickly adopted by humanitarians. The biometrics stem from the same kind of need for efficiency. One of the key challenges for humanitarians is to ensure the people who need assistance receive what they need, that there is no diversion of resources and that they continue to receive the assistance they need over time. So we need to be able to track beneficiaries. It is a win-win situation."
Chris Cummins:
"Let's move to a more controversial and complex arena. What are the pros and cons of drone technology in disaster response?"
Patrick Vinck:
"Drone technology has been hard and it's a relatively new and important potential contribution. Imagine an earthquake or a disaster and being able to not only get very rapid imagery, but be able to build 3D models of the situation on the ground. Imagine being able to deliver assistance in very remote areas, surgical intervention, bringing vaccines that are needed without heavy logistics, in fact reducing the cost of sending equipment and material to specific locations. There are also issues around privacy and the data that is collected through those mechanisms that needs to be addressed. We need to very cautious about how we approach this adoption of technology and evaluation is really important, as well as bridging the gap between people who have experience in the drone area with regards to data protection, privacy and ethics, and humanitarians who don't necessarily always think in those terms because, well, saving lives is their business and we do that at whatever cost."