English Defence League's leader Tommy Robinson quits far-right group
Comments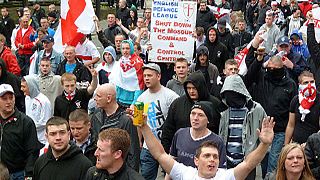 The controversial leader and founder of UK far-right group English Defence League has quit.
Tommy Robinson, who established the group in 2009 to counter "militant Islam", said he was stepping down because of concerns over keeping far-right extremists at bay and a desire to pursue his goals through democracy rather than violence.
He is set to go on trial later this month charged with obstructing police officers at the scene of the killing of soldier Lee Rigby.
The EDL is known in the UK for street marches and demonstrations, which often see them come up against anti-racism campaigners.
Robinson, and co-founder Kevin Carroll, took the decision to step down after talks with Quilliam, which describes itself as a "counter-extremism think tank".
Maajid Nawaz, chairman of Quilliam, said: "As well as being a very positive change for the United Kingdom, this is a very proud moment for Quilliam. This represents not a change but a continuation for us, as challenging extremism of all kinds forms the basis of our work. We have been able to show that Britain stands together against extremism regardless of political views and hope to continue supporting Tommy and Kevin in their journey to counter Islamism and neo-Nazi extremism."
The group added in a statement: "We hope to help Tommy invest his energy and commitment in countering extremism of all kinds, supporting the efforts to bring along his former followers and encouraging his critique of Islamism as well as his concern with far-right extremism. We call all of Tommy's former colleagues in the EDL to follow in his footsteps and also call on Islamist extremist leaders to follow this example and leave their respective groups. Tommy and Kevin believe the voice they have created can be channelled in a positive direction. Quilliam stands ready to facilitate such moves across the spectrum."
Robinson said: "I have been considering this move for a long time because I recognise that, though street demonstrations have brought us to this point, they are no longer productive. I acknowledge the dangers of far-right extremism and the ongoing need to counter Islamist ideology not with violence but with better, democratic ideas."
But it's unclear at this stage what effect Robinson's departure will have on the future of the EDL.
A statement on englishdefenceleague.org reads: "The EDL was founded for a reason. We had a cause in the beginning and we continue to stand by that cause now. We cannot at this moment say with any confidence what form the EDL will take in the future, but we can say with firm conviction that the EDL will continue to oppose militant and extreme Islam."