Vietnam general behind defeats of US and France dies, age 102
Comments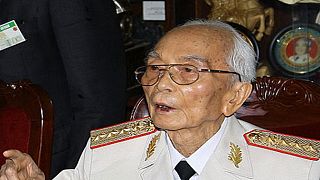 The architect of Vietnam's military victories over the United States and France has died, aged 102, family members said.
General Vo Nguyen Giap, one of the country's best-known 20th century figures, was the man behind the defeat of the French in 1954 at Dien Bien Phu and the communist victory over US-backed South Vietnam 21 years later.
He died on Friday after several years in a Hanoi military hospital.
In a 2004 interview with Reuters he preached peace and said Vietnam's independence wars were a "victory for colonised countries all over the world".
Giap recalled that on a visit to the United Nations in Geneva the previous year, he was handed a book to sign: "I wrote…and signed 'Vo Nguyen Giap, General of Peace'."
Born on Aug. 25, 1911, in central Vietnam, Giap was a close friend of the late revered president Ho Chi Minh and was held in high regard alongside former prime minister Pham Van Dong.
But Giap's critics and his nemesis, the late US General William C. Westmoreland, said he was effective partly because he was willing to sustain huge losses in pursuit of victory.
"Any American commander who took the same vast losses as General Giap would have been sacked overnight," Westmoreland was quoted as saying in Pulitzer Prize-winning author Stanley Karnow's 1983 book "Vietnam. A History."
Karnow wrote that Westmoreland seemed to misunderstand how determined the communists under Ho and Giap really were.
Giap is known to have opposed several important military decisions, including the costly move in 1968 to delay the withdrawal of forces from unsustainable positions in South Vietnam during the Tet Offensive.
In 1975 he held back again on a decision by Hanoi to commit all its forces – leaving the capital unprotected – to the Spring campaign which climaxed in late April with the fall of Saigon, now called Ho Chi Minh City.
Later, he opposed Hanoi's decision to maintain an occupying force in Cambodia following Vietnam's late-1978 invasion.
This, coupled with long-harboured resentment by some members of the establishment towards him, is said to have contributed to his declining political influence after the war years.
He remarried after his first wife died in a French prison in 1943. Giap had three daughters and two sons.