Mandarin rat snake grounds Qantas 747
Comments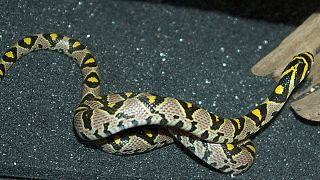 A small, exotic snake has been found on a Qantas Boeing 747 airliner, grounding 370 passengers in Sydney overnight.
Staff discovered the 20-centimetre Mandarin rat snake near to the door of the passenger cabin late on Sunday evening, before passengers were due to board the flight, Qantas said in a statement.
The Asian snake, which is mildly venomous and about the width of a pencil, is thought to have boarded the flight from Singapore the day before.
Passengers due to travel on the Tokyo-bound flight were given overnight hotel rooms in Sydney and left on a replacement plane the following morning. Qantas said that the original jet would be fumigated before returning to service.
According to the Agricultural Department, the snake was taken into quarantine and had been euthanised as, "exotic reptiles of this kind can harbour pests and diseases not present in Australia."
Canberra Reptile Zoo herpetologist Peter Child emphasised that, although it does not pose a threat to humans, the snake could have caused havoc in the Australian environment if it had escaped with a mate.