Prince William leaves the military to focus on his royal duties
Comments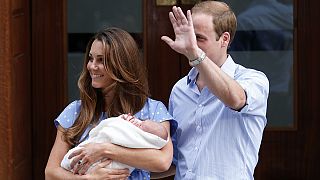 Britain's Prince William, who became a father for the first time in July, is to step down from the military and will focus on his charity and royal duties for the immediate future, his office said on Thursday.
William, 31, second in line to the throne, has been working as a search and rescue helicopter pilot with Britain's Royal Air Force in north Wales and has spent 7-1/2 years in the armed forces.
"This is a transitional year for him," a spokeswoman said. "He's going to take this year to focus on his charity work, his royal engagements and particularly his work in the field of conservation."
The prince is considering options for a future role in public service and will not be going into full-time royal duties yet, she said. "It will be a very busy year for him: he's got quite a lot on, so you'll see him out and about quite a lot," she added.
Most pressing for William will be his role as a father following the recent birth of son Prince George, while he and wife Kate are due to move into their official renovated residence at London's Kensington Palace in the next few weeks. There has also been speculation in the media that William, Kate and baby George will make an official visit to Australia next year.
"It is fair to assume that they will be taking a tour in 2014," said the spokeswoman, adding the birth of his son had not played a role in his decision to quit the armed forces. William, known as Flight Lieutenant Wales to his colleagues, began military life in the army as a lieutenant in the Household Cavalry's Blues and Royals before joining the RAF.
As a search and rescue pilot, he conducted 156 operations, helping 149 people in the process, said Wing Commander Mark "Sparky" Dunlop, his squadron commander. "These missions were conducted across Wales, northwest England and the Irish Sea in a range of weather conditions which tested the crew's airmanship skills and determination," he said.
"I have flown with him and been very impressed with his flying ability and I'd be happy to fly with him again."
REUTERS