Barroso: 'Figures show start of economic recovery'
Comments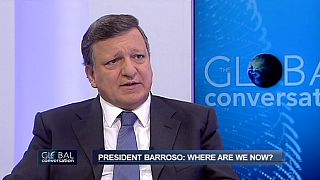 Answering questions for European citizens on euronews' Global Conversation on Thursday night, following his 'State of the Union' speech, the President of the European Commission José Manuel Barroso began by saying he believed the Russian plan to take Syria's chemical weapons "should be tried".
He then went on to sound cautiously optimistic about a return of growth, but said high unemployment was "socially unacceptable".
He placed the causes for the EU and the world's economic problems squarely at the doors of governments who "overspent" and "irresponsible banking practices".
Global Conversation and interactive hangout with President Barroso