Interactive Hangout with José Manuel Barroso
Comments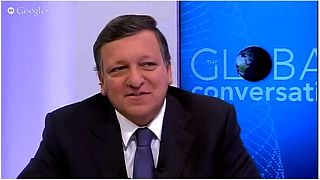 A live Google+ hangout and euronews interview took place with president of the European Commission José Manuel Barroso on Thursday 12 September! During the Hangout, President Barroso answered a number of questions on topics that were concerning the euronews viewers.
Social diversity in the EU
When asked about social diversity in Europe, President Barroso emphasised the sheer diversity of languages in the EU: "The language of Europe is translation." He was keen to express that all EU legislation is translated into each of the 24 EU languages.
Crisis change
President Barroso was asked about the "crisis" surrounding climate change. He suggested that it is not a simple issue and described it as "an existential threat to our planet." In response to Alice on the Google+ Hangout, President Barroso said Europe is leading by example with regards to climate change.
Independence for Catalonia and Scotland
One of the Google+ panelists asked President Barroso about the potential outcome of independence for Catalonia and Scotland, from an EU perspective. He responded that they would be treated in the same way as any other potential EU states, saying that each "new state has to apply for membership."
Border disputes
Tony Evans asked if the EU was going to intervene in the "politically motivated" frontier checks between Gibraltar and Spain. President Barroso said that, if freedom of circulation in terms of people or goods is compromised, or illegal activity is discovered, the EU will act in "an independent, objective manner."
Discrimination
Evelyne from Canada asked where the EU stands on discrimination and homophobia, to which President Barroso responded that it is "against our principles, norms and values."
Foreign affairs
In response to his question about foreign affairs amongst the EU member states, Pedro from Portugal was told that it is up to the member states to have a common policy.
European Commission President José Manuel Barroso was also interviewed on euronews at 8:30pm.
When asked about the Russian proposal to have Syrian chemical weapons put under international control, President Barroso responded that we have "good reasons to be sceptical", but that we should try Russia's plan.
Moving on to unemployment, President Barroso described the situation in Europe as "socially unacceptable" and "politically untenable."
What is #AskBarroso?
Right after the 20-minute interview, President Barroso took part in a Google+ Hangout with half a dozen citizens from across Europe. Participants were able to ask follow-up questions and to debate during this 45-minute Hangout session.
When? How?
In the two weeks prior to the interview and Hangout, euronews pored over the hundreds of questions euronews viewers had sent in using the hashtag #AskBarroso. A few of them were handpicked and answered during the live, interactive interview and Google+ Hangout with President José Manuel Barroso.
Before the interview
President Barroso took a few moments to speak to euronews ahead of the interview and Hangout. He defended his calls for a deeper economic and political union, saying that talk of Europe's "fragile recovery" is not too optimistic:
"I prefer to concentrate on what's positive (…) The European Union is doing all it can for Europe with all the means at its disposal (…) That's why I strongly defended Europe because I believe it's important that people know what we're trying to do collectively within the European institutions."
When asked about the growing prominence of Euroskeptic parties and extreme groups in European politics, President Barroso put his faith in pro-European groups:
"It's true in difficult economic times (…) certain parties become more popular. From the extreme right to the extreme left, people are manipulated, and some groups offer simplistic solutions to complex problems to ease people's fears and anxieties. So I'm counting on the pro-European forces to lead this battle."