Who in Syria is waiting to fill the power vacuum if Bashar al-Assad is ousted?
Comments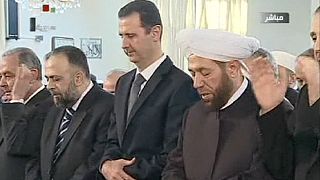 Uncertainty over who would fill any power vacuum in Syria is arguably among the key reasons the UK's parliament decided against taking part in military action.
Although it is unclear at this stage what form any intervention would take, France's President Francois Hollande has insisted all options are still on the table.
But what is indisputable is the myriad of groups and alliances that make up the Syrian opposition. So who could potentially replace Bashar al-Assad?
The National Coalition for Syrian Revolutionary and Opposition Forces, comprises opposition factions in Syria and abroad. It was set up in November 2012 and it was hoped the coalition would gain international recognition and plan for a post-Assad transition.
It was reportedly created following pressure from the international community, which wanted a new alliance to replace the Syrian National Council (SNC), which was viewed as ineffective and consumed by infighting. The council, which is dominated by Syria's majority Sunni Muslim community, has been criticised for failing to reconcile different opposition factions.
The National Co-ordination Committee is made up of a host of leftist political parties. But crucially it differs from the SNC on whether to speak to Bashar al-Assad's regime (which is of the Alawites religious group from the Shia school of Islam) and the issue of foreign intervention. It wants dialogue with al-Assad on the condition of withdrawing the military from the streets and it opposes foreign military intervention.
Among the military groups are the Free Syrian Army, which was set up by army deserters based in Turkey. It claims to have up to 40,000 men, but analysts say the real figure is likely to be a quarter of this. They have been unable to hold onto territory when under seige from the Syrian army, such as when they lost their stronghold Homs in 2012. The FSA has functioned mainly as an umbrella group for army defectors, civilians who have taken up arms and Islamist militants. But it has found it difficult to work with the SNC, which wants to safeguard the uprising's non-violent character.
Many groups within the FSA are Islamist and the rhetoric is often religious. It is therefore difficult to distinguish between moderate Islamist elements and the more conservative, which explains why western governments are unsure whether to arm them or not.
The Nursa Front (Salafist) is possibly the country's most powerful jihadist group and is thought to comprise 6,000 fighters. It was founded with help from al-Qaeda in Iraq and is considered a terrorist organisation by the US.
The Syrian Islamic Front is the umbrella group for other Salafist (Sunni Muslim) factions. As with the Nursa Front they want to establish an Islamic emirate in Syria.
Most of these extreme groups have worked with the FSA but there have been disputes over resources and territory.