Greece: Santorini island in darkness after power station blaze
Comments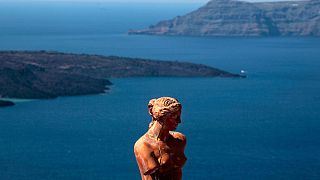 Santorini, one of Greece's most popular tourist destinations, was left without lights on Tuesday when a power station blaze cut off electricity to the entire island.
Known for its sunsets, and dotted with whitewashed buildings clinging to its steep slopes, the crescent-shaped volcanic island drew 1.6 million tourists last year. Some 150 cruise ships dock in its port each month in summer.
Power is due to be restored to Santorini by Wednesday night, local authorities said.
Mayor Nikos Zorzos said on Wednesday morning that power was being gradually restored to the island.
A fire that broke out at a power station left the southern Aegean island without electricity for several hours.
The fire started at a power station in Monolithos, some 9 kilometers southeast of Fira, at around noon and was doused before it could cause major damage or injuries.
A navy vessel and a passenger ferry were dispatched to carry two power generators to the island for use until the power station is fully operational.
REUTERS