Minister's invitation through…Twitter
Comments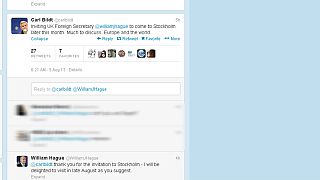 The British Foreign Secretary William Hague will visit Sweden on August 28 and 29, after receiving an invitation via Twitter from the Swedish Foreign Minister Carl Bildt.
"Inviting UK Foreign Secretary @williamjhague to come to Stockholm later this month. Much to discuss. Europe and the world" wrote Bildt, in a Friday morning tweet in English.
Bildt received the following – perhaps unexpected – response: "Thank you for the invitation to Stockholm – I'll be happy to come in late August as you suggest," said Mr Hague.
The Swedish Foreign Ministry said in a statement later that bilateral issues would be on the programme at the meeting.
In addition to their bilateral discussions, the two Ministers will be key-note speakers at a seminar on 'Europe's Role in the Global Power Shift', being organised by the Utrikespolitiska institutet as part of its 75th anniversary conference. The Foreign Secretary has also been invited to talk about the FCO's Diplomatic Excellence agenda at the Swedish MFA annual leadership conference.
Bildt is an avid Twitter user. According to a recent study on "Twiplomacy", published in July by the public relations firm Burson-Marsteller, he is "the best connected politician in the world" on the Twitter network.