Mini Mona Lisa on world's smallest canvas
Comments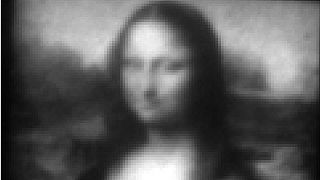 Leonardo da Vinci's enigmatic Mona Lisa is one of Europe's best-known paintings. Now it is perhaps one of its smallest.
Researchers at the Georgia Institute of Technology have created the 'mini-Lisa' approximately 30 microns in width – just a third as wide as a human hair.
The image was created using an atomic force microscope and new process, known as ThermoChemical NanoLithography (TCNL), which applies varying levels of heat to 125-nanometre pixels. More heat produced the lighter shades of grey, as seen on the Mini Lisa's forehead and hands. Less heat produced the darker shades in her dress and hair.
The study demonstrated that it was possible not only to put molecules on a nano-surface, but to vary how many of them are actually there.
Jennifer Curtis, an associate professor at the Georgia Institute of Technology School of Physics and the study's lead author, explained: "We envision TCNL will be capable of patterning gradients of other physical or chemical properties, such as conductivity of graphene."
"This technique should enable a wide range of previously inaccessible experiments and applications in fields as diverse as nanoelectronics, optoelectronics and bioengineering," she said.
The paper, Fabricating Nanoscale Chemical Gradients with ThermoChemical NanoLithography, is published online by the journal Langmuir.